Never Say Never…
This is the story of a woman who tied the knot with her boyfriend of 43 years after facing many hurdles and difficulties in their relationship.
Jeanne Gustavson first met Stephen Watts in 1971 "when she was a freshman, and he was a senior at Chicago's Loyola University," PEOPLE reported,
"He was very striking," Gustavson said about Watts. "Extremely handsome, dressed impeccably, always a gentleman — everything you'd want in a boyfriend."
Like Jeanne, Stephen was a German major and president of a German Club at their University.
But because he belonged to the Black community, Jeanne's mother didn't approve of their relationship.
"She just went ballistic," she told PEOPLE. "She didn't want this relationship to happen at all."
After learning about their relationship, her mother went to the Dean's office. She requested the University officials to keep the two apart from each other, yet they still managed to date each other for the next seven years.
After graduating from nursing school, Jeanne landed a job in a distant area where she had to do late shifts. Her commute was long on a daily basis, and she couldn't see Watts any longer.
"I was completely overwhelmed by everything," she said. "The family issue was always weighing on me because it fractured the relationship between my mother and myself forever. She was always my mother, and I always loved her, but it affected our relationship for the rest of my life."
"I would've lost my entire family," she added. "I knew that if I did marry him, I probably wouldn't see my family again."
So, one day when she was doing her shift at her workplace, Jeanne called Stephen and told him that he could no longer see him.
"I love you, but I just can't do this," she said to him.
"He was crushed and didn't say a word," she said. "We'd go the next several decades without speaking. I regretted it then, I regretted the way I did it, but I did it."
Fast forward to 2021, Jeanne retired from her job, and her mother was not alive anymore.
So, she decided to take the plunge and find Watts after all those years.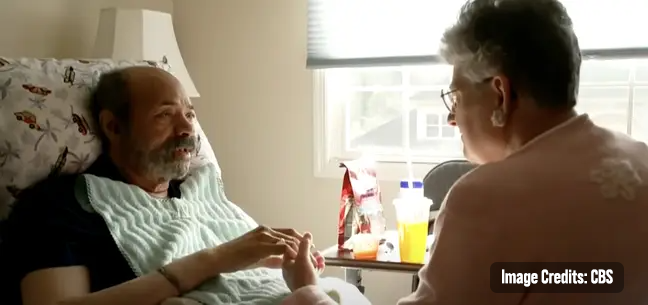 "Everything came up a dead end when I tried to search for him. There was virtually no trace of him."
But Gustavson had made up her mind, and she was not ready to give up this time. So, she continued her search for Stephen and finally, after seven months of looking for him everywhere, she found his niece's address and wrote her a letter.
"She told me he was in a nursing home, and that's something I never had in a million years imagined," she told the outlet.
In May 2021, she called the nursing home and asked to talk to Watts. But she couldn't. So she sent him a letter thinking he would respond, but he didn't.
"Being a nurse, immediately, I started thinking of different things that might be wrong with him, where he couldn't write to me," she said. "I made a decision to go to Chicago to see Steve. I had to have resolution."
"I needed to know: Was he okay? Was he married? Would he forgive me?" she added.
In June 2021, Jeanne went to his nursing home and surprised Stephen. When he saw her, he started crying.
"It was wonderful, and it was sad at the same time, because he didn't look at all like when I knew him 50 years ago."
Upon their reunion, the former nurse learned that Stephen had suffered two strokes and got his left leg amputated due to some infection.
"It just broke my heart," she said. "I knew he still loved me. I just knew," she says. "We spent the next hour and a half together, and he clung onto my arm with a death grip. We talked, we cried and we found out that neither one of us was married at this point and we still loved each other."
A few months after their reunion at the nursing home, the couple eventually tied the knot after 43 long years.
"When he proposed, I said, 'A thousand times yes!'" Jeanne, who is now 69, told PEOPLE. "We're trying to make up for 42 lost years."
What are your thoughts on this couple's story? Let us know in the comment section.
Sources: PEOPLE