Tate has recently become one of the most discussed people on the internet. Many people, especially women, have shown their reactions towards him, which are not subtle. Much criticism has been directed towards Andrew Tate for his anti-feminist remarks. 
One Tiktoker nudlemommy shared a video recently when she was going out for a romantic weekend, and she couldn't believe that her boy had tuned into Andrew Tate's podcast; she was shocked and couldn't believe it.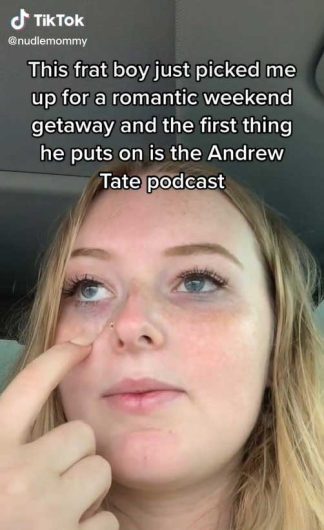 It didn't go well when she asked her boy who this guy was, he said it was Andrew Tate, a famous guy from Romania and he explained why he is so famous. After hearing that, she responded that was cool, but she wasn't satisfied. As she was recording that conversation with her boy, he posted it to her TikTok account and asked her fans, "Should I call my mom and tell her to drive 2 hours to come pick me up 😭?" You can watch that video here.
She has received many responses to her video, and they are fascinating to read. Some of them can be read below:
A girl named Bleau: Girl. I'm in New Zealand but if your mum can't come and get you, I will.
user42069122300: There is no time to waste…Uber home right now
IcyUnderTale112: Jumping out of the window is an option
Aedrieus: It's gonna be a long weekend. But at least he made sure to hoist the biggest red flag he could right away.
gleep23: That's a deal breaker ladies. Seriously, get out of the car and go home. Order pizza and vodka. Start binging that tv show you've been meaning to see. Much better weekend.
NfamousKaye: Oh that is the biggest red flag. Like its a damn flag pole.
proscriptus: I mean, "frat" was already a pretty big red flag.
Is there anything you would do differently if you were in her shoes? 
Source: Nudlemommy/TikTok