Anthony Joshua told Laura Woods she is his dream date in a flirty interview after beating Jermaine Franklin on Saturday.
The former heavyweight champion talked to Woods on iFL TV about his victory over Franklin and his career. However, within seconds, the conversation got a little flirty.
When asked about his thoughts on her career, the 33-year-old professional boxer said, "I think it's blossomed amazingly, just like you."
In response, Laura, 35, chuckled and asked, "How many hits there did you get?"
"A few actually," he laughed.
Later in the interview, when the TalkSport presenter asked Joshua, who's his dream date, he instantly said, "YOU."
Listening to his response, Laura threw a fist up in the air and said, "This is perfect!"
"I know [Ruben] Loftus-Cheek's beaten me to it," the boxer joked, referring to the moment from last week's talkSPORT episode in which the Chelsea football player told Woods she is his celebrity crush.
"It's fine, it's fine … there's no competition," the sports journo said.
The British boxer also asked Laura if she was in a relationship and she said, "No, I'm not in a relationship." And asked if he was committed.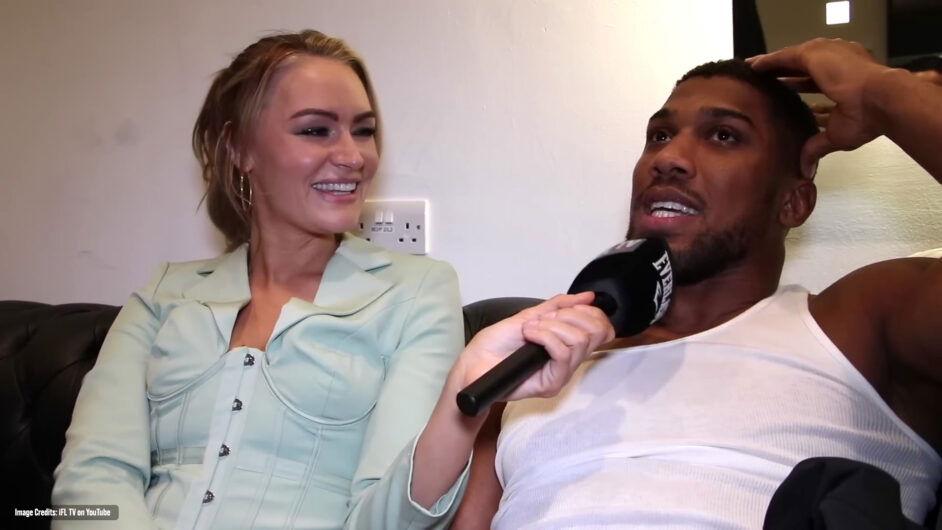 "No, I'm not," said Anthony and asked if the sports journalist was focused, and she said, "too focused on work for a commitment."
Joshua agreed with Woods that he was also focused on his work.
"We've got so much in common," she told him.
Last week, Woods spoke to Ruben Loftus-Cheek on her sports Breakfast show ahead of his game against Aston Villa on Saturday and was told in a light-hearted exchange that she was his celebrity crush.
"It is the Blues' first match after the international break, and Woods chose to do a quiz-style Chelsea SOS with the England international," The Mirror reported.
"One of the questions involved Woods asking the same question she fired at boxer Anthony Joshua recently: 'Who is your celebrity crush?' Joshua revealed that his ideal woman is singer Beyonce – but Loftus-Cheek chose differently."
"After being quizzed by Woods, Loftus-Cheek said: "Laura Woods!" The ITV presenter laughed in hysterics and responded by saying: "An exceptional answer!"
The 35-year-old presenter signed off from the show by pledging, "It's been an absolute pleasure and I'll get your number later!"
The 27-year-old English footballer reportedly dated a former Love Island star, Amber Davies, in 2021. However, his current relationship status is unknown.
During the interview, when Rubin was asked who gives the best relationship advice from the Chelsea squad, he replied,
"Maybe [Marc] Cucurella, I need some advice on how to make her laugh."
He also mentioned Cucurella when asked whom he would prefer to have as his quiz partner at Chelsea.
According to The Mirror, this isn't the first time a celebrity has openly praised Laura Woods.
"She savagely rejected an offer from 2018 Love Island contestant Charlie Brake after he asked her out for dinner."
But she politely shut down the invite and said, "I'm not hungry but thank you."
Let us know your thoughts in the comments.
Sources: iFL TV on YouTube – The Mirror