Every parent spoils their kids with gifts and presents like toys, clothes, and maybe some fancy baby products. However, a dad recently took 'spoiling their child with gifts' to a new level and bought extremely fancy things for his infant.
Barrie Drewitt-Barlow is a 51-year-old father-of-seven who welcomed his son Romeo Tarquin with his fiancé Scott Hutchinson via surrogate.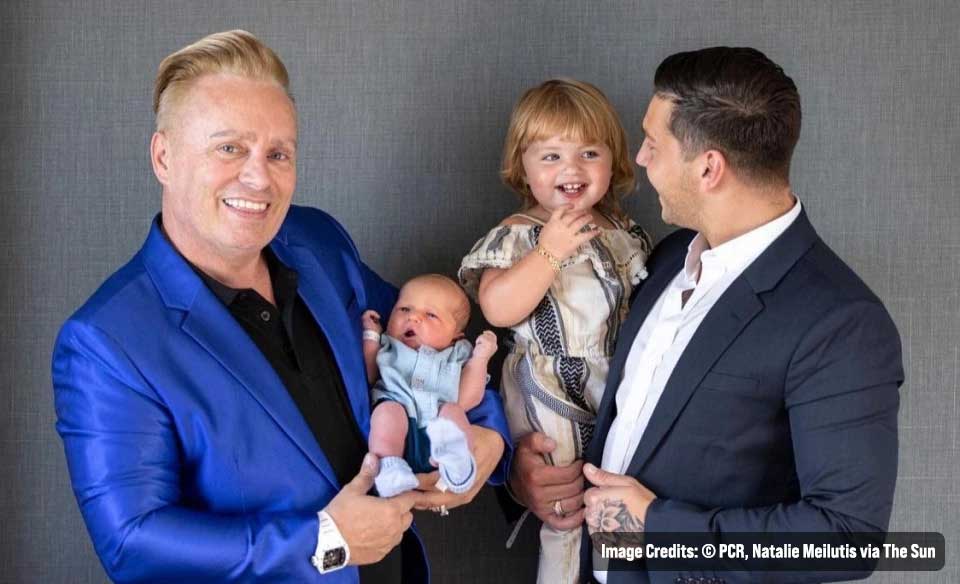 According to The Sun, Romeo was born on August 12, 2022, and is only one month old. However, the newborn already owns an extensive wardrobe – enough to make a Kardashian jealous.
"We just spent $2.8 million on a yacht for Romeo and named it after him. It is currently in Miami where Saffron [my eldest daughter] is boarding, with her new boyfriend and heading over to Cuba and the surrounding islands for two weeks," Drewitt told Fabulous.
"We want to give him the same start in life as the other kids, so we have set up a trust fund for him. Tony [my ex] gifted him $1.15 million, and I matched it for him. We will obviously build up a nice portfolio of things for him over the next few years."
The wealthy father further said that his newborn owns a wardrobe full of designer clothes.
"Burberry, Versace, Dior, Tommy Hilfiger, Ralph Lauren, if a designer sells baby clothes we have snapped them up."
He also said that after the birth of Romeo, his two-year-old Valentina was no more the youngest kid in the family.
"She used to be the baby of the family but not anymore. However, she is in no way jealous over her little brother and has plenty of gifts thrown her way."
"She has a personal chef," Barrie added. "A whole playroom full of the latest gadgets and toys, full-time live-in nanny and a team of house staff that take care of her every need, including a full-time hair stylist that styles her hair every day."
According to the outlet, it isn't just Barrie and his fiancé Scott who are spoiling Romeo with extravagant presents; his eldest sister Saffron is not doing any less.
"Before he was born our eldest daughter Saffron spent over £10k on clothes, the moment he was born, another £20k. She has totally gone over the top," he told The Sun.
Barrie, who appeared on 'Below Deck' and owned a fortune of $204 million along with ex-husband Tony Drewitt-Barlow, shares Romeo with his now-fiancé Scott.
In 2019, the father-of-seven parted ways with Tony and started dating his now fiancé, Scott. It has also been reported that 27-year-old Scott used to date Barrie's eldest daughter Saffron but now he shares an amazing bond with her plus fifty dad – romantically!
"I keep forgetting how old I am," said Barrie.
"It's hard going with a new baby but I wouldn't be without him now, we are totally in love with him.
"I have made the decision that this is my last child. I'm hanging up the hat and calling it a day."
Previously Barrie and Scott used to live with Tony and his new partner Brent in a ten-bedroom mansion in Florida. But he's renovating his 15000 square feet Essex mansion worth £6 million.
"Currently, we have renovations going on in our Essex home. We have had so much fun renovating, Valentina's room has come in at around £150k, with her new bed costing £38k alone, and we haven't even started on Romeo's nursery yet," Barrie explained.
"We fitted a panic room and one of the biggest indoor aquariums in the world, designed by Redfins, the company responsible for Sea World."
"The house will house over £16m worth of art from some amazing artists worldwide."
The doting father-of-seven said that he is looking for a competent house staff to look after his children and take care of the house.
"Now the search is on for staff for the house in the UK, nannies, housekeepers, chef, and security, with interviews planned for September."
Share Your Thoughts:
What do you think about Barrie Drewitt-Barlow's story? Do you believe parents should spoil their children with extravagant gifts if they can afford them? Let us know your views.
Source: The Sun – Images & Featured Images Credits: © PCR, Natalie Meilutis via The Sun