After being married for over 18 years, Christine, the wife of Yellowstone star Kevin Costner, has filed for divorce.
"It is with great sadness that circumstances beyond his control have transpired which have resulted in Mr. Costner having to participate in a dissolution of marriage action," a rep for the Yellowstone star tells Yahoo Entertainment. "We ask that his, Christine's and their children's privacy be respected as they navigate this difficult time."
TMZ has acquired documents revealing that Christine filed for divorce on Monday, citing "irreconcilable differences". As a prenuptial agreement is already in place, she is not requesting spousal support. The couple has three children together: Cayden, who is 15 years old, Hayes who is 14 years old, and Grace who is 12 years old.
For a quarter of a century, Kevin Costner, who is 68 years old, and his wife Christine, who is 49 years old, have been together. They exchanged vows at the actor's 160-acre ranch, The Dunbar, located in Aspen, California, in 2004. Throughout the past two decades, they have chosen to maintain their relationship and family life away from the public eye. In a rare instance of discussing his personal life, the actor revealed that the COVID-19 pandemic actually strengthened their relationship.
"Our partnership has really come into focus about what we do for each other and how we deal with our family," Kevin told People in 2020, adding he's "really comfortable with my family."
"Our house is like a river: You've just got to get into the flow of it," he continued. "And whatever you thought it was going to be, maybe it still can, but it's going to have to work with what the day brings."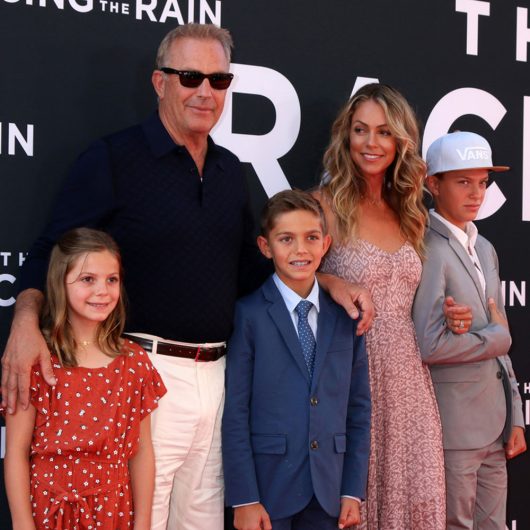 As reported by People, Christine and Kevin initially crossed paths on a golf course while the actor was preparing for his role in the 1996 film, Tin Cup. At the time, he was still legally married to his first wife, Cindy Silva, with whom he has three adult children. The former couple's marriage ended in 1994, resulting in one of the most costly divorces ever recorded, with the actor paying out up to $80 million in a settlement, according to Forbes. In 1998, Kevin and Christine rekindled their connection and have remained together ever since.