Sometimes, life shows us things that make us believe in love, something so magical that it's more suited for a fairy-tale. Today's story is about identical twin sisters, Brittany and Brianna, who found identical twin brothers, Josh and Jeremy, who became their soulmates.
Background – The Identical Twins
Being identical twins, Brittany and her sister always had trouble managing their relationships. When people are identical twins, they share life on a much deeper level than we can perceive. And that's something not everyone can understand – which resulted in many fights with boyfriends during their teenage years.
Brittany said during an interview with Insider:
"So often, we were in relationships with singletons who didn't understand our twin sister bond,"
Identical twins are very hard to tell apart for most people; they wear identical outfits and have very few tells. Identical twins also share a powerful emotional bond. Understanding that emotional bond is vital for their partners-to-be. Suffice it to say, the twins faced many relationship problems and wished for real love.
The Festival for Twins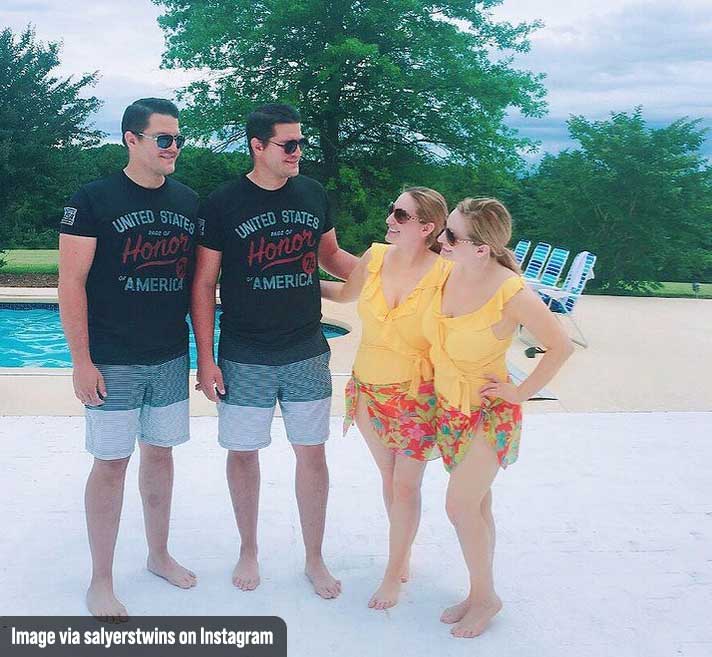 In 2017, the sisters attended the Twins Days Festival in Twinsburg, Ohio – where they met Josh and Jeremy. And it was love at first sight! What are the odds of finding identical twin brothers looking for their soulmates to be identical twins?
If anything says "A Match Made in Heaven," this has to be it. Josh and Jeremy understood the sisters more than anyone else could before.
A "Twice Upon A Time" Wedding
The twins had finally found their soulmates, giving this fairy-tale a real happily-ever-after. They got married in August 2018 – calling it their "Twice Upon A Time" wedding ceremony.
Twin Babies!
In an interview with People in 2018, Brittany said:
"When we have children, my and Josh's children will be genetic siblings to Briana and Jeremy's children. Even though they're cousins, they're technically genetic siblings. We imagine it will be like two moms and two dads all raising our families together,"
Brittany and Briana both wanted to have children and loved the idea of their babies being around each other. On August 14, 2020, they posed the big news – both couples were expecting!
"Guess what!!?? BOTH couples are pregnant! We are thrilled and grateful to experience overlapping pregnancies and to share this news with you all! Our children will not only be cousins, but full genetic siblings and quaternary multiples! Can't wait to meet them and for them to meet each other!"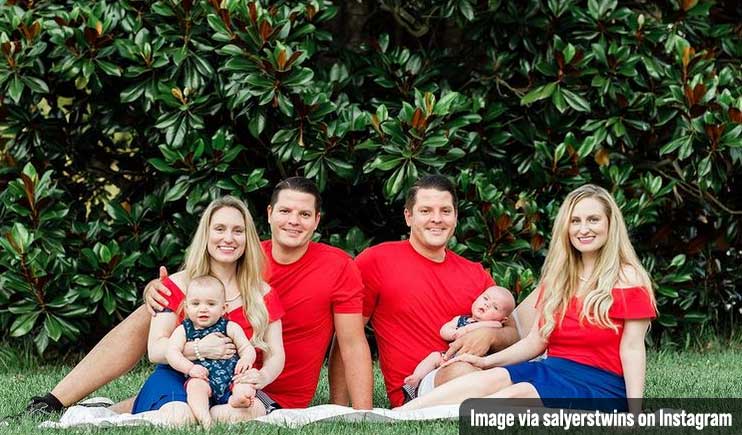 And a year later, the couples were blessed with two beautiful baby boys – Jaxx and Jett. Jeremy, while announcing the birth of his son, said:
"I am thankful that our boys will grow up together"
On February 22nd, 2022, the sisters posted an incredibly cute photo on Instagram celebrating their family being in "TWOS."
A Real Twin Fairy-Tale
Brittany and Briana found their perfect soulmates and made a beautiful life with them. Their families share a special bond, and their story truly is unique. Anything can happen if you have hope and don't give up. This story indeed shows how unpredictable and beautiful life is.
You can follow this amazing family's beautiful journey on Instagram here.
Comments Your Thoughts
What are your thoughts on this? Talk to us in the comments below!
Sources:
Images & Featured Image via salyerstwins on Instagram