Dr. Julian De Silva, M.B.B.S, M.D., is a world-renowned cosmetic surgeon – he has worked with a number of celebrities and is known for being an expert in what he does. He is based in London and is also among the top ten best cosmetic surgeons in the UK.
According to his website:
"He is one of a handful of elite surgeons to be recognized with British, European, and American qualifications, memberships, and board certification."
He has done quite a bit of research on different topics in his illustrious and successful career. One of which is about the most beautiful men in the world.
10 Most Beautiful Men in the World, According to Dr. Julian De Silva
This list is calculated and rated by Dr. Julian according to a Golden Ratio rating – calculated by adding up multiple factors, it's not random numbers and has a lot of work behind it. According to Dr. Julian:
"The Golden Ratio was a mathematical equation devised by the Greeks in an attempt to measure beauty."
It's based on a Golden Ratio rating which is calculated by adding up multiple factors. Here are ten of the world's most beautiful men.
10. Ryan Gosling
9. Kanye "Ye" West
8. Idris Elba
7. David Beckham
6. Hugh Jackman
5. George Clooney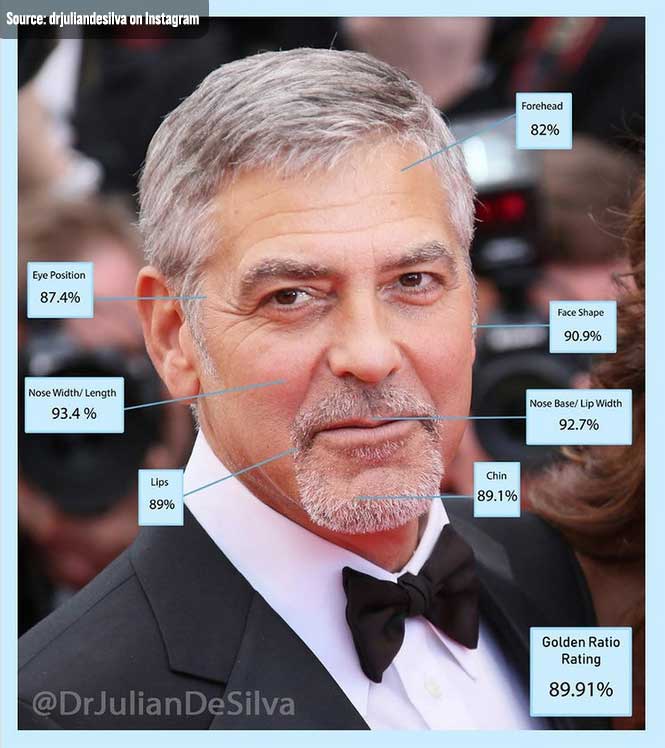 4. Brad Pitt
3. Bradley Cooper
2. Henry Cavill
1. Robert Pattinson
In an Instagram post, Dr. Julian explained how Robert Pattinson is the world's most beautiful man according to his research:
"Batman star Robert Pattinson is the most beautiful man in the world, according to our scientific research using the golden ratio."
"* The 33-year-old actor was found to be 92.15% accurate to the Greek Golden Ratio of Beauty Phi – which measure physical perfection;"
"* The Witcher star Henry Cavill is second with 91.64%, A Star Is Born hunk Bradley Cooper was third with 91.08% and Brad Pitt was fourth with 90.51%;"
"* Previous winner George Clooney slumped to fifth place – largely because of the effect of ageing on the 58-year-old has resulted in a loss of volume in the face;"
"* David Beckham was seventh with a score of 88.96% and the most chiselled chin in the top ten;"
"* Computerised facial mapping techniques used for the measurements were developed by Dr Julian De Silva, a Harley Street facial cosmetic surgeon"
You can visit Dr. Julian De Silva's Instagram here & his official website here.
What are your thoughts on this list? Do you agree? Talk to us in the comments below!
Sources:
Dr. Julian De Silva on Instagram
Dr Julian De Silva's Official Website
Images & Featured Image via Dr. Julian De Silva on Instagram