Are they putting the past behind them? Never say never!
Hailey Bieber and Selena Gomez just gave us the most incredible pop culture plot twist of 2022.
Only two weeks after addressing claims of not stealing Justin from Selena, Hailey is now posing with the Same Old Love singer.
"The pop superstar, 30, and model, 25, joined forces at the Academy Museum of Motion Pictures' 2nd annual gala Saturday night in Los Angeles," PEOPLE Magazine reported.
"The pair looked to be on good terms at the Los Angeles event, as they were all smiles while posing for an impromptu photo opp. In one photo, Selena can be seen with her hand on Hailey's leg, and in another, she has a full smile on her face as they stand closely."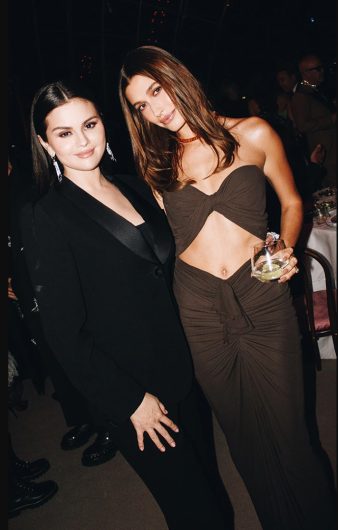 The duo's public display of sisterhood occurred after Hailey's tell-all interview with Alex Cooper on the Call Her Daddy Podcast. In her interview, the 25-year-old shut down the claims of stealing the Baby singer from his former girlfriend, whom he dated on and off for ten years.
"People were obsessed with [Justin and Selena] being together. Were you ever with Justin romantically at the same time as her?" host Alex Cooper asked Hailey.
"No, not once," she replied. "When he and I started hooking up, or anything of that sort, he was not in any relationship, It's not my character to mess with someone's relationship, I was raised better than that."
"It's all respect. It's all love," she said of Gomez. "Neither of us owe anybody anything except respect. I respect her a lot, and I think there are no expectations [between us]. I respect her."
"Everybody on our side knows what happened, and we're good, and we can walk away from it with clarity and respect."
The socialite first met the Canadian singer in 2009 at one of his interviews on the Today Show. The two started dating in 2016 after the latter's breakup with Gomez.
"A lot of the hate comes from like 'oh you stole him' and the fact that he wished he ended up with someone else. And that's fine, you can wish that all you want, but it's not the case."
"There's a certain numbness that you get," she told Alex on the Podcast.
"It still happens to this day, if I was to go live right now, it would still be happening. You reach a point where you have to ignore it," Hailey added.
"If we have moved on, why can't you?"
Now, on Saturday, the two women attended the star-studded ceremony of the 2022 Academy Music Gala in Los Angeles.
According to E! News, "The women's joint snaps, which show them sitting close together and smiling, were taken by photographer Tyrell Hampton on Oct. 15 at the 2022 Academy Museum Gala in LA, to which the women arrived separately. The celebration, presented by Rolex, marked the most high-profile event both have attended at the same time."
On Sunday, October 16, Hampton posted the now-viral photo on his Instagram and wrote, "plot twist."
Tyrell's post has been liked by more than one million people on the platform and received thousands of comments.
"love watching the reverse of global warming and everybody's skin clearing from this pic." 13 Reasons Why actress Tommy Dorfman actress commented under the photo.
"world peace has been found," said someone else.
"Tyrell just photographed history… this will be ur most iconic pic of the year i fear," another commented.
Meanwhile, people on Twitter also reacted to the viral PDA-filled photos of the two Justin ladies.
"HAILEY BIEBER AND SELENA GOMEZ HUGGED EACH OTHER THIS IS MY MULTIVERSE OF MADNESS I SWEAR TO GOD," a user exclaimed.
"the way hailey bieber and selena gomez have done more for world peace that majority of the politicians in the world," said another.
Some other sarcastic users on the platform took the news as an opportunity to create memes.
Share Your Thoughts:
What are your views on this biggest plot twist of 2022? Let us know in the comments.
Sources: PEOPLE – Call Her Daddy Podcast – E! News – Instagram – Twitter
Images: Tyrell Hampton