Sharna Burgess is an incredibly-talented celebrity best known for the hit TV series Dancing with The Stars. Last year, she met her boyfriend, Brian Austin Green of Beverly Hills – 90210 fame, and the couple is expecting their first baby together!
A beautiful photoshoot took place in Hawaii this week, where the two of them can be seen embracing each other on the beach. Brian Austin Green, 47, has three children with his superstar ex-wife, Megan Fox, and another child with actress Vanessa Marcil.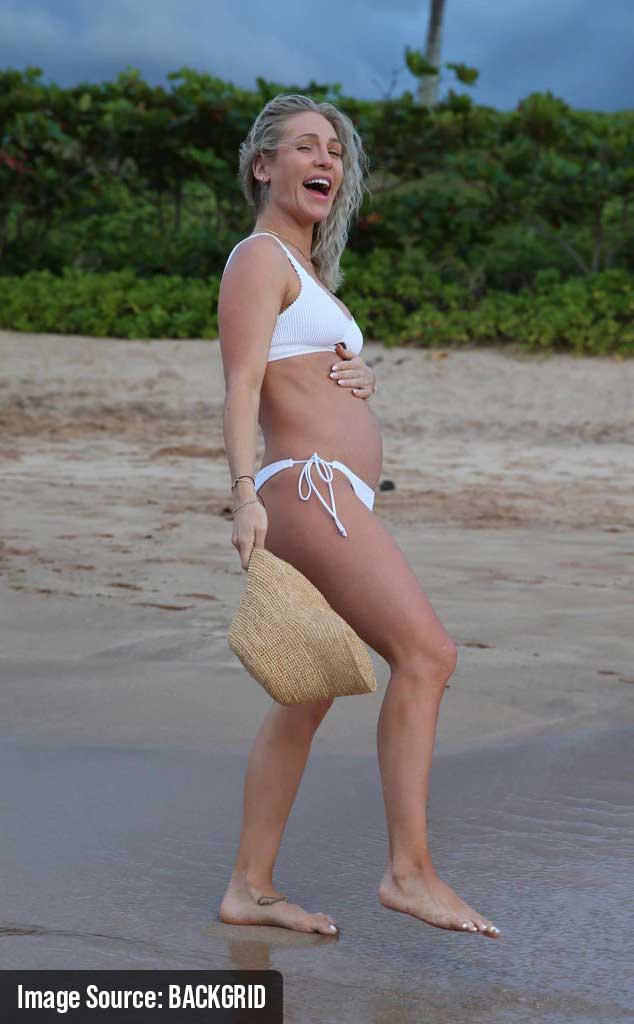 While talking to PEOPLE, a source spoke about how Brian raises his children with ex-wife Megan Fox without holding any negativity towards her whatsoever:
"As long as they're both on the same page with the kids, he's good and happy for her,"
"They're strictly co-parents,"
"He's got another woman that he's super into. He's entirely moved on."
This is entirely true as Brian is head-over-heels for Sharna Burgess, and Megan Fox recently engaged with MGK.
While talking to PEOPLE, Sharna talked about how the two met:
"We met at a coffee shop, then had a few dates and then we were locked in a house together,"
"I was grateful for that because it allowed us to really take our time and it was really awesome."
Brian also had nothing but praises and adoration for Sharna; he told PEOPLE:
"On our first date, we just completely lost track of time and the same thing happened the next time. It became something noticeably different from anything I'd ever experienced before."
"I wasn't sure what that meant until the first time we kissed and then it was the attraction and a whole bunch more. It was really cool. And we really have the same moral compass."
Sharna also shared an emotional post on her Instagram, saying:
"1 year ago yesterday my whole world changed.

"I just didn't know it yet. You're everything I've ever wanted in 1 person and the way you love me is something I couldn't even have dreamed of. I never knew it existed until you. ♥️ I love you baby, and I love doing life with you. 1 down, and all of them to go. :)"
The beautiful couple is now devoting their time towards a good cause by supporting the #Search4Smiles campaign on which searches made on TrueHeart.com will go to Smile Train – the world's largest cleft charity. Smile Train is responsible for providing completely free cleft palate surgeries for children across the globe.
While talking to PEOPLE, Sharna spoke about how involved Brian is with the project and how much she enjoys working with him:
"I'm very passionate about it and I'm excited to do this with Brian as well because one of the things we connected on is helping others, so it's so beautifully aligned that they came to us. We feel like we can really make a difference."
We wish the beautiful expecting-couple happiness and joy for the future!
Comment Your Thoughts Below
What are your thoughts on this? Talk to us in the comments below!
Sources: