A vegan TikToker has slammed Sheesh Restaurant in Essex for not catering to vegetarian people.
Amie-Beth, a 27-year-old influencer from Essex, England, recently took to her TikTok and shared that she went to eat at this famous restaurant in her city which is very popular among celebrities, including Katie Price and several other reality stars.
The TikToker said that her friend had returned from Dubai and wanted to catch up at some nice place, so her mum recommended Sheesh restaurant.
Before going to the eatery, Amie-Beth thought she should call and ask what was on their menu.
"I'd been to Sheesh a couple of years ago, and I'm a vegan, and they didn't actually have anything on their main menu that was vegan," she said in her video.
"But I was thinking…maybe I could just get some sides. Some chips and rice, all of that, and like mix it all together. Whenever I go to restaurants, I actually prefer side dishes to mains a lot of the time…Anyway [when I went to Sheesh] a couple years ago, I asked to do that, and they wouldn't let me."
Amie-Beth explained that she called the restaurant to check if they had anything on their menu for vegans and if they would accommodate her this time.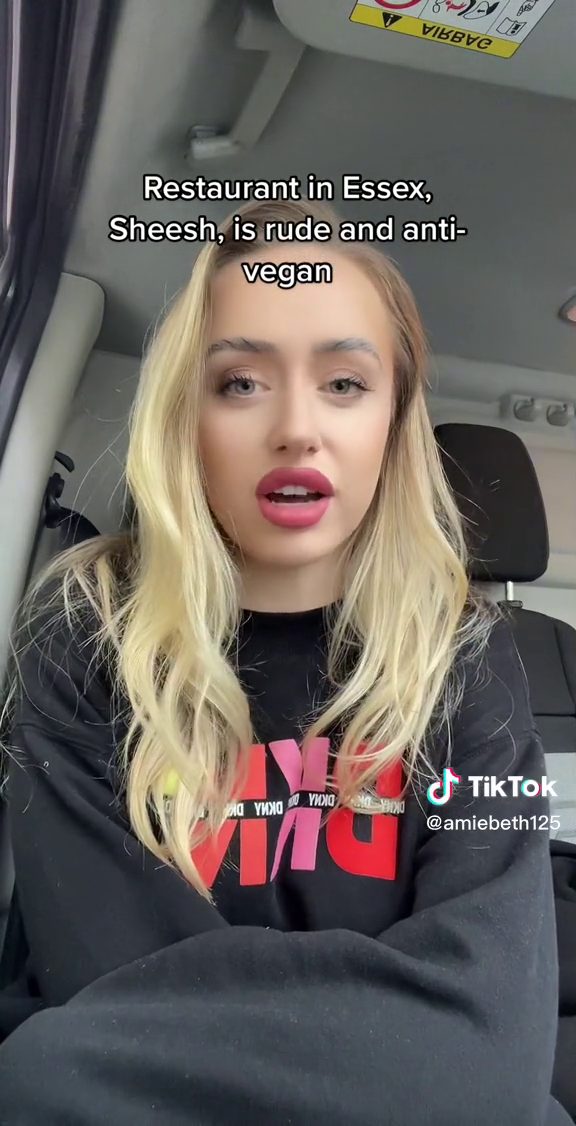 However, she was shocked when the lady who received her call rudely asked her why would a vegan person dine-out at their restaurant.
She also told Amie that they don't cater to vegans.
"So the lady on the phone said "we don't cater for vegans,"' she said. "[My friend said], "yeah, I understand that. But I can see obviously you've got loads of sides. She was just wondering if maybe she could order a few of those. And have that as her main?"
She said they were even surprised when the lady asked, "I don't even know why vegan would even want to come to our restaurant anyway."
Amie-Beth said she was surprised because how could a restaurant not cater to vegans as it's 2023, and it is completely normal for people to be strict vegetarians?
"I just was like, you know, it's 2023, being a vegan isn't weird. Like we were just asking a question like, fair enough if that's your policy, but, saying 'why would a vegan even want to come here?'" she said.
"I just can't believe that a restaurant that…is so well known would just be so rude," she concluded.
Amie-Beth's video received over 50K views on TikTok and her followers supported her argument in the comment section.
"Sheesh is literally all aesthetic and no substance! So many better alternatives in Essex," one wrote.
"If a restaurant doesn't offer vegan, vegetarian or gluten free options in 2023 it's dead! No excuse," a second wrote.
"Sheesh is very overrated due to celebs going there a lot. I agree x," a third added.
"I emailed them asking about veggie options & they told me to just order chips," one follower shared their experience in the comments.
"It's so pretentious in there… it's a shame really because the food is amazing but other things let it down," someone wrote.
"That's so bizarre they're losing out on a whole lot of custom lol like what," another said.
Let us know your views in the comments.
Source: TikTok