Zooey Deschanel and Jonathan Scott's romance began in the most unexpected place; the duo first met while recording an episode of James Corden's Carpool Karaoke in 2019.
In September 2019, the couple met for the very first time and instantly hit it off. Jonathan and Zooey were accompanied by his brother Drew and her sister Emily on the episode, and they all had fun together.
"They were doing Carpool Karaoke, and they had a really fun day," People Magazine reported at that time.
Soon after their first encounter, Zooey announced her split from her husband of four years, Jacob Pechenik. The former couple share two kids together – daughter Elsie Otter and son Charlie Wolf.
After her divorce became news, the 500 Days of Summer actress was spotted holding hands with the Canadian TV personality while the two took a walk together.
"It's new, but they are having a lot of fun together," wrote PEOPLE.
Later Scott spoke to Us Weekly in an interview and said that he was seeing someone, and this time, he was caught off guard.
"I am seeing someone. I'm a very private person, so I don't typically talk about that. It's definitely special for me because I am the guy who raises the bar in what I'm looking for in a partner. I was caught a little off guard. It was definitely a pleasant surprise."
In October 2019, the couple went Instagram official and shared the same photo on their accounts from a double date hangout with Jonathan's twin brother and his wife, Linda Phan.
In November 2019, the couple made their first red carpet debut at the Critic's Choice Documentary Awards.
"Yes, it is our first red carpet together because she is also a huge advocate for independent films and documentary films as well. So, for us to come and be able to support this is very important," Scott told People.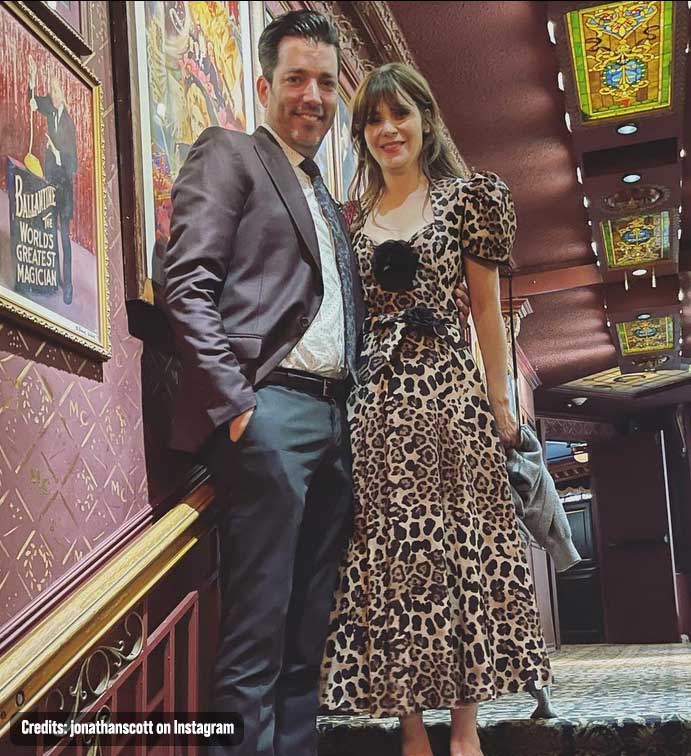 In June 2020, Deschanel and her ex-husband, Jacob finalized their divorce and decided to keep things smooth and uncomplicated for the sake of their children.
"They are very private and are excellent parents and love their kids so much and want this to be smooth for them."
In August 2020, Deschanel and Scott celebrated their first anniversary and shared a sweet photo on their Instagram.
"One year ago today I met this kind, caring, hilarious, generous, creative, nerdy, handsome and all around incredible human," Deschanel wrote in her caption.
"I am so grateful for every smile, kiss, hug, snuggle, laugh, scrabble game, escape room, breakfast, lunch and dinner we share together. Even during the weirdest year for humanity I want a million billion more with you," she added.
In January 2022, Scott told E! he and Zooey quarantined together during the lockdown period in 2020 and had a blast together.
"So, she makes the most fantastic meals every day. She also loves board games. We even did a virtual escape room the other night, which was a lot of fun. … [She has] what I had been looking for in a person for years and years and years."
In June 2021, the lovebirds opened up about their mutual interests in an interview with People Magazine.
"I remember actually when we first met, he sent me his documentary and I was like, wow, we are so aligned on this level," said Zooey.
In August 2021, the couple celebrated their second anniversary and posted pictures featuring each other on their social media accounts.
"2 years and still my favorite," she wrote.
"Thank you for making everything better @zooeydeschanel. (time really does fly when you're having the most fun!)," he penned.
In December 2021, the pair announced that they bought a home together and are stoked to host dinner parties at their new place.
"Our dream home, where we'll see the kids grow up laughing and adventuring in the yard, where we'll play host to friends and family."
In March 2022, the duo attended the Oscars together, and Scott posted photos from the night on his Instagram, and joked about holding his girlfriend's train for hours.
"You've affectionately held my heart for almost 3 years, the least I could do is hold your train for 3 hours," he wrote.
In June 2022, the couple revealed their newly furnished home on Instagram and wrote,
"A beautiful home with a lot of history. As soon as we pulled into the driveway, we knew this house was special."
"This is a house that suits our tastes and needs, aesthetically and functionally. Jonathan is so amazing at figuring that out. He's been doing it for his clients for so long, and now he's done that for us and our family." wrote Zooey.
Two months ago, in August 2021, Zooey and Jonathan celebrated their three years together and shared a lovely photo on Instagram while complimenting each other.
"Hard to believe…scratch that…Easy to believe it's already been 3 years with this beautiful soul in my life. @zooeydeschanel you make everything better. and what a fitting way to celebrate at the @magiccastlehollywood," he wrote.
"I got the best one, most wonderful three years ever. And thanks magic castle for helping us celebrate last night," she added.
Later that month, the pair went on a vacation along with Zooey's two kids and posted,
"What beautiful company hiking and riding in such beautiful country," Scott captioned his selfie with girlfriend, Deschanel. "Thank you Wyoming for your hospitality. Thank you @zooeydeschanel for accepting my 7 day unshaven streak."
Thoughts on Zooey and Jonathan's romantic relationship? Let us know in the comments.
Sources: People Magazine – Us Weekly – E! – Instagram