Jonah Hill's ex-girlfriend claims the movie star was 'emotionally abusive' to her when they were in a relationship.
The surfer took to her Instagram account on Friday and shared a series of screenshots of messages between herself and the 39-year-old actor. She accused the actor of being emotionally abusive and branded him a 'misogynist and narcissist.'
The couple dated back in 2021 for almost a year.
"This is a warning to all girls. If your partner is talking to you like this, make an exit plan. Call me if you need an ear," Sarah wrote, alongside a screenshot of messages from Jonah in which the comedian asked her to take down photos from her Instagram in which she wore a thong.
She posted another screenshot in which Hill, 39, sent her a list of things he was not okay with, including Brady surfing with men, posting sexual pictures, having no boundaries in her friendships with men, posting pictures of herself in a swimsuit, and friendships with women who are in unstable places.
"I'm not the right partner for you. If these things bring you to a place of happiness I support it and there will be no hard feelings. These are my boundaries for romantic relationships," he wrote in a text message. "My boundaries will be based on the ways these actions have hurt our trust."
"See the misuse of the term boundaries," she captioned the screenshot.
She said he was controlling and wanted to dictate how she should live her life.
"You're right can't do surf social things or develop trust until you consider me and make decisions that give regard to our relationship," he wrote in another message. "I have been vulnerable as possible and I'm telling you I am needing you to step up to the plate. Which you can I'm sure of it but these losers don't get your time if you want me. Straight up it's consideration." He added.
"He respect your love for surfing," he told Brady. "But I respect myself as well and your love of surfing and being in those situations and lack of awareness are not mutually exclusive."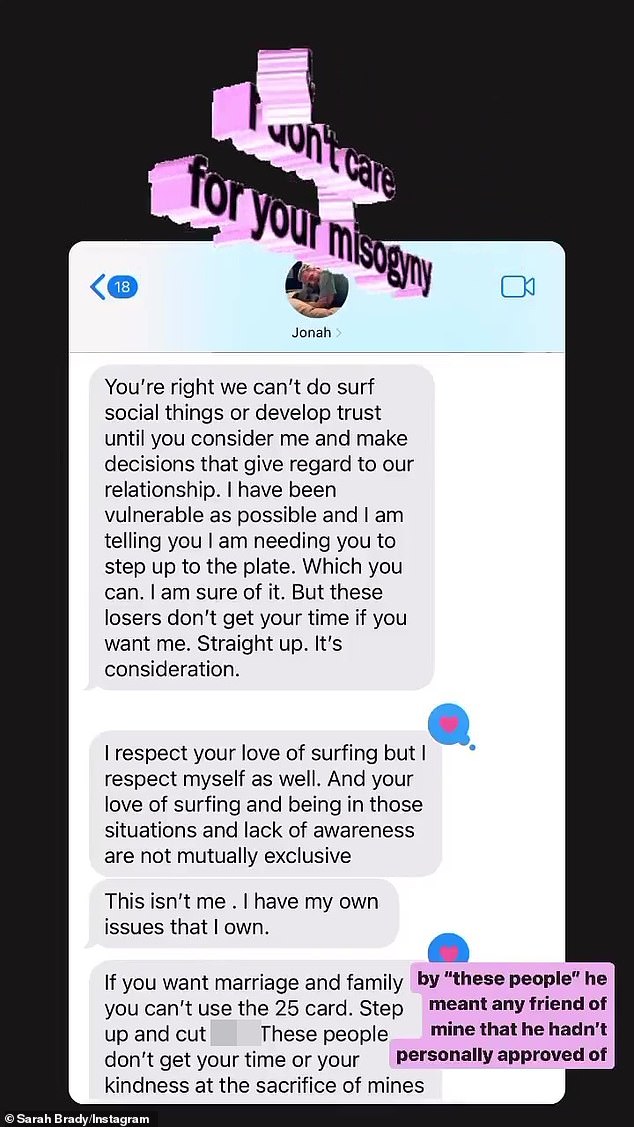 Then he continued to tell Brady that if she wanted marriage and family, she couldn't use the '25 card' with him.
"These people don't get your time and your kindness at the sacrifice of mines," he texted.
"By 'these people' he meant any friend of mine that he hadn't personally approved of," Brady explained in her cation.
Then she wrote in another story post, "I too struggle with mental health, but I do not use it to control ppl like he did to me," Brady wrote in one of the posts."
"It's been a year of healing & growth with the help of loved ones and doctors to get back to living my life without guilt, shame and self-judgement for things as small as surfing in a swimsuit rather than a more conservative wetsuit. And I'm sure there's still much more healing from this abuse ahead of me."
Sarah added that she is sharing these messages now because it has become too difficult for her to keep it to herself and deal with the emotional damage on her own.
She also wished that her ex becomes a father to a baby girl who might turn him into a feminist one day.
"Because the fact that he calls himself a feminist now is laughable," she wrote.
Let us know your thoughts in the comments.